BIG4 Townsville Gateway Holiday Park
BIG4 Townsville Gateway Holiday Park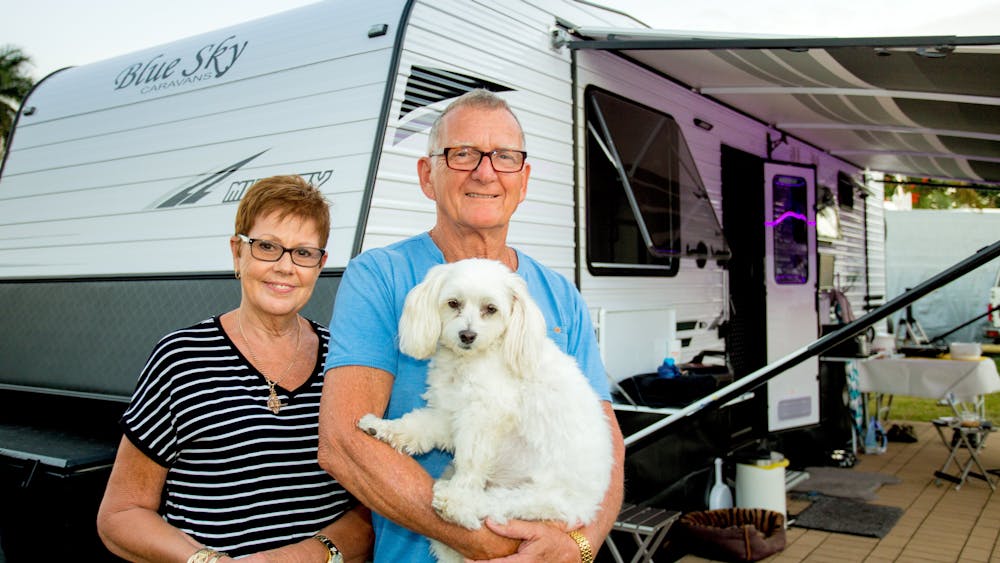 From
$25 to $155 (Check out the website for special deals on accommodation for your next stay.)
About
Welcome to BIG4 Townsville Gateway Holiday Park, a tranquil park only 10 minutes drive south of Townsville, Queensland and is ideally suited for all your holiday activities. Nestled amongst shady native trees and beautiful bird life, providing the perfect relaxing setting for you to unwind on your tropical holiday.
Enjoy comfortable ensuite air-conditioned cabins which can accommodate up to four people. Shady caravan and tent sites are available, complemented by spotless and well-maintained amenities block and barbecue areas.
Whether you are stopping for one night or just want a place to set up base while you explore all the attractions of Townsville, BIG4 Townsville Gateway Holiday Park has everything you need. Guests also enjoy a variety of special offers with local businesses, including discounts at popular tourist attractions. The friendly staff can assist with recommendations on events and activities in and around Townsville.
Winter nomad activities include an open-air cinema, camp-fire catch-ups and much more!
Amenities
Facilities
Barbeque
Camp Kitchen
Carpark
Communal Kitchen
Communal Lounge
Communal Refrigerator
Communal Shower
Drive through sites available
Dump point
Family Friendly
Laundry
Non Smoking
Outdoor Dining Area
Pet Friendly - Enquire
Swimming Pool
Kiosk
Cancellation Policy
Please check your reservation carefully and contact us if any of your details need amending. Your booking is not confirmed until the required deposit has been paid in full. Kindly note that check-in time is from 2:00pm for all accommodation. Check-out time is 10:00am for all accommodation. Earlier arrival and later times can be arranged subject to availability however charges may apply. Office hours may vary so please check at the time of booking. If you are arriving outside of office hours please contact us to discuss the late arrival procedure. You consent and authorise Secura Lifestyle and the relevant property to collect use and disclose your personal information for the purposes of administering your booking and providing you with any services associated with your booking. We may also use this information from time to time for the purpose of informing you about offers and promotions. The person making the booking will be deemed to have accepted these Terms and Conditions on behalf of all persons who will be staying at the property under the booking. What do I need to bring? 1. Linen is provided for the main bed in all accommodation but provision of linen to other beds is specific to the accommodation type. Please follow up with Reception if you are unsure. 2. Extra linen and towels are available at reception for a small fee. Please advise prior to arrival so this can be arranged. 3. Laundry facilities provided in the park and detergent available from reception at a small fee. 4. BYO pool towel. When will my room be serviced? 1. All rooms will have towels changed on average every 4 days 2. All rooms will have a linen change and service on average every week. 3. Servicing is weekdays only unless otherwise requested. 4. Additional services can be arranged by reception for a $35 fee per service. What is the cancellation policy for Low Season reservations? 1. Date Changes - Subject to availability and incur an administration fee of $50 as well as any tariff difference. 2. Date Changes must be confirmed 7 days prior to arrival or the cancellation fee is applicable. 3. Cancellations more than 7 days prior to arrival incur an administration fee of $50 4. Cancellations less than 7 days prior to arrival - an administration fee of 100% of 1 night's stay. 5. Changes or cancellations less than 1 day prior to arrival - no refund. 6. This policy excludes peak & high season Refunds will not be given for early departures change of mind cancellation on arrival or inclement weather. What is the cancellation policy for Peak Season? 1. Cancellations more than 30 days prior to arrival will be refunded 50% of the booking cost minus a $50 administration fee 2. If cancellation is received less that 30 days prior to arrival no refund will be issued.
Townsville
Latest Packages & Deals