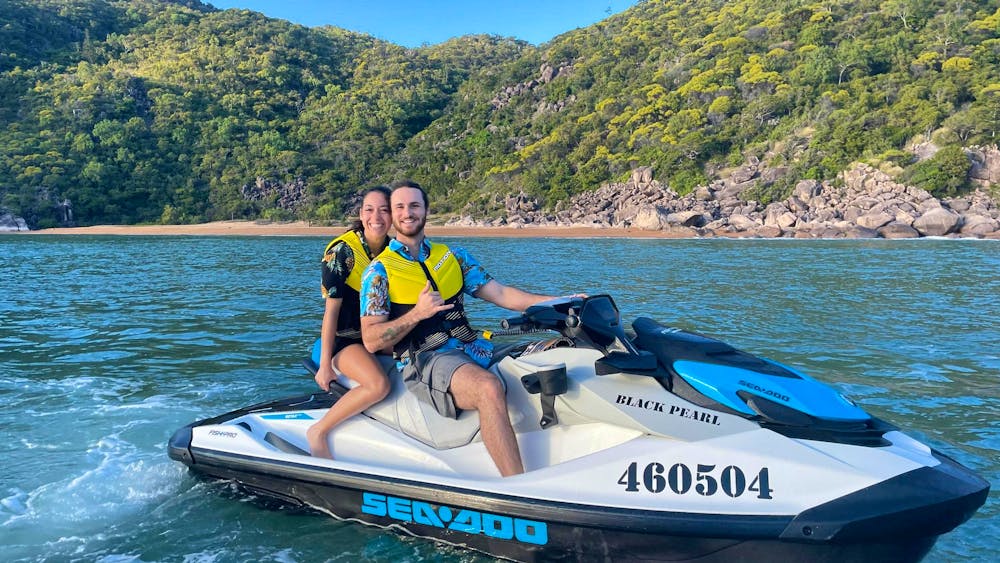 About
Discover the wonders of the Townsville region with Poseidon Adventure: Unleash Your Inner Adventurer! Embark on thrilling jet ski tours, offering a range of options including scenic coastal tours, adrenaline-pumping rides, and island explorations. Experience the magic of our captivating sunset cruises, where you can relax and soak in the breathtaking views.
Their island excursions will take you to pristine shores, vibrant coral reefs, and hidden coves, allowing you to immerse yourself in the natural beauty of the region. Join them for an unforgettable marine experience tailored to your preferences.
Poseidon Adventure offers a variety of tours to suit every adventurer. Explore the stunning Magnetic Island, with its picturesque landscapes and thriving marine life. Marvel at the rugged cliffs of Cape Cleveland, or cruise along the coastline of Townsville Bay for a unique perspective of the city.
During your tours, keep an eye out for our thriving marine ecosystem, which includes encounters with turtles, dolphins, dugongs, and even whales!
Let Poseidon Adventure be your guide to an unforgettable journey, showcasing the best of the Townsville region's natural wonders and thrilling experiences on the water. Book your adventure today and get ready for an exhilarating exploration with Poseidon Adventure!
Cancellation Policy
Terms and Conditions: 1. Booking Confirmation Start Time Disclaimer Poseidon Jet Ski Tours strives to provide accurate start times for tours and hires. However, you acknowledge that tour and hire start times may be subject to change without prior notice. Factors such as weather conditions, safety concerns, unforeseen circumstances, or other operational reasons may necessitate adjustments to the start times. Notification of Changes In the event of a change to your booked tour or hire start time, Poseidon Jet Ski Tours will make reasonable efforts to notify you promptly using the contact information provided during booking. It is your responsibility to ensure that your contact information is up to date and accurate. Flexibility and Cooperation We appreciate your understanding and cooperation in situations where start times need to be adjusted. Poseidon Jet Ski Tours will work with you to reschedule, if necessary, to accommodate any changes. However, we cannot be held liable for any inconvenience, costs, or losses incurred as a result of start time changes. 2. Cancellations Cancellations made more than 3 days before Tour departure date will receive a full refund of their booking. Cancellations made within 3 days of departure will receive a refund minus an administration fee (25%) Cancellations made within 24 hours of departure will receive no refund. Refunds are given at Poseidon Jet Ski Tours discretion. If cancellation is due to poor weather, the customer can chose either reschedule their tour/hire or alternatively receive gift voucher to be used at a later date. (Valid for 12 months). 3. Minimum Numbers for Tours and Hires Poseidon Jet Ski Tours may have minimum participant requirements for tours and hires to ensure the best experience for all customers. The minimum participant number may vary depending on the specific tour or hire, and it will be communicated at the time of booking. If the minimum required number of participants for a tour or hire is not met, Poseidon Jet Ski Tours reserves the right to postpone the scheduled tour or hire. Our primary goal is to provide an enjoyable and fulfilling experience, and this decision is made to ensure that goal is met. Participants affected by a tour or hire postponement will be notified in advance, and alternative arrangements may be offered, including rescheduling to a later date. 4. Gift Vouchers and Gift Cards This Gift Voucher/Gift Card ("Voucher/Card") is valid for use at Poseidon Jet Ski Tours. The Voucher/Card is valid until the expiration date specified on the Voucher/Card itself. The Voucher/Card holds no cash value and cannot be exchanged for cash, either in full or partially. Poseidon Jet Ski Tours strictly adheres to a no refund policy for Vouchers/Cards. Once a Voucher/Card is purchased, it cannot be returned or refunded. Poseidon Jet Ski Tours is not responsible for any lost, stolen, or damaged Vouchers/Cards. The Voucher/Card will not be reissued or replaced under any circumstances. The Voucher/Card can be redeemed for goods or services offered by Poseidon Jet Ski Tour up to the Voucher/Card's value. If the purchase exceeds the Voucher/Card's value, the remaining balance must be paid by an alternative method. Each Voucher/Card is intended for single-use. Any remaining balance after use is non-transferable and non-refundable. The Voucher/Card expires on the date specified and is no longer valid for use after that date. Poseidon Jet Ski Tours reserves the right to alter these terms and conditions at any time, including changes to the expiration date. 5. Conditions of Payment Full payment is required to secure booking. Poseidon Jet Ski Tours reserves the right to charge funds up to $5000 for the following: – Loss or damage to watercraft(s) or equipment – Any outstanding debits on the hirer's account (fuel, wetsuits, towables, etc) – Cancellation of future bookings due to damage to watercraft(s) or equipment -Minimum inspection payment of $500 for all rollovers. No exemptions! 6. Use: (a) Minimum age of 16 years to operate watercraft(s) (b) Maximum passenger loading including skipper is 2 persons (200kgs max) (c) Maximum speed of 6 knots within 200m of shoreline (d) Maximum speed of 6 knots within 60 metres of other vessels or persons (e) Maximum speed of 6 knots within 200 metres of blue & white dive flag (f) Wristband key / kill switch must be always worn by skipper whilst watercraft(s) is operating (g) Driver and passengers must all be wearing approved life vests while operating the watercraft(s) (h) The watercraft(s) must not be used in water shallower than 1 metre or damage to the hull, engine, Impellers or associated workings for the jet unit will be the sole responsibility of the hirer (i) Watercraft(s) must not operate within the hours of darkness (j) The watercraft(s) will not be used by intoxicated persons or persons taking judgment impairing substances during the hire period (k) The Hirer will exercise proper care and diligence for the security of the watercraft(s) and will do nothing to jeopardize any insurance claims that may arise while the watercraft(s) and equipment is in the Hirer's care (l) The watercraft(s) must be driven by or under direct instruction by the Hirer who signed for it (m) Minimum passenger age is 8 years. 7. Breach of Law and Regulations The Hirer shall be responsible for any costs resulting from breaches of Maritime Laws. 8. Discretion Poseidon Jet Ski Tours reserves the right to remove the watercraft(s) & equipment from the Hirer's possession or exchange it at any time at Poseidon Jet Ski Tours discretion. 9. Damage and Accidents Should the watercrafts & equipment be involved in an accident or sustain loss while on tour or hire. The following steps must be taken: (a) Inform Poseidon Jet Ski Tours staff immediately. If the incident is life threating, call triple 000. (b) Obtain the name and address of the driver of any other vessels involved and the name and address of the insurance company. (c) Obtain the name and address of any witnesses. (d) Make no other statements and do not admit liability for the accident, as per insurance practice. 10. Indemnity and Insurance (a) In the event of an accident, the Hirer will complete any insurance forms required by Poseidon Jet Ski Tours and will cooperate for any insurance purposes. (b) In the event of an insurance claim being declined due to some omission or fault on the part of the Hirer, then it is agreed that the Hirer will reimburse Poseidon Jet Ski Tours to the watercraft(s) and for any third-party claims made against Poseidon Jet Ski Tours.
Townsville
Latest Packages & Deals