The Strand Park Townsville War Memorial
The Strand Park Townsville War Memorial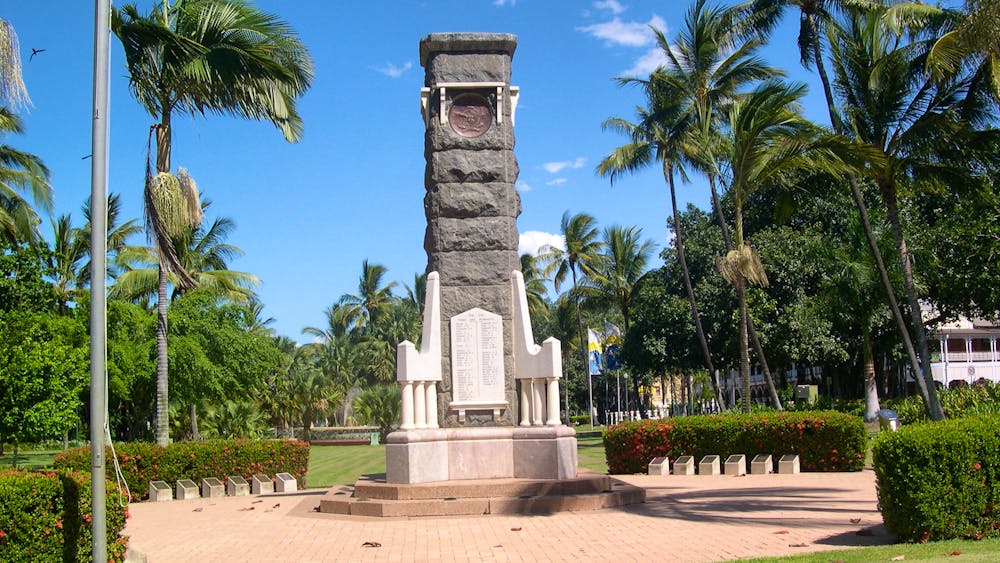 About
Don't use Townsville war memorial's clock tower to check the time: its clock faces have long been replaced by four plaques depicting an eagle, crossed swords, anchor and the seal of the City of Townsville. As early as 1925, the clocks were unreliable as a time-piece and were later removed.
The column of rough cut grey granite, supported on a red-white marble plinth and bracketed by 3 white marble fins, was dedicated by Governor Sir Matthew Nathan on ANZAC Day 1924 in what was then known as The Strand Park.
Wrought-iron entrance gates and fencing and several war trophy cannons were installed nearby.
Public subscription financed the memorial, designed and constructed by monumental masons, Melrose and Fenwick of Townsville.
The Strand Park was renamed ANZAC Park in 1934: a metal arch bearing the new name was erected above the entrance gates, in time for the April 25 ANZAC commemorations.
The Strand foreshore fronting the Breakwater Marina contains many other memorials including 27 small plinths holding bronze plaques forming an outer perimeter to the WWI memorial.
The focus on ANZAC Day activities since the 1920s has become a natural home for formal and civic commemorations in the north Queensland military city.
Townsville
Latest Packages & Deals